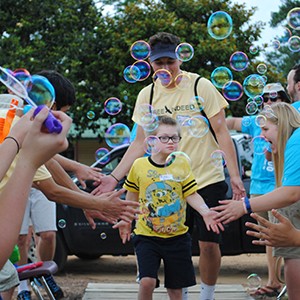 TOMBALL, TX – Tomball Regional Health Foundation (TRHF) is happy to announce that we were able to provide thirty five scholarships to campers that would otherwise not have been able to attend Camp Blessing Texas this summer. The Camp welcomes persons 7-years and older with a primary diagnosis of a physical or intellectual disability. Camp Blessing Texas also allows siblings, ages 7-13, of our campers to be a camper themselves. Older siblings (age 14+) have the opportunity to volunteer at camp.
TRHF also purchased three (3) shower chairs this year as well as paid the salary for the Head Clinic Nurse and Special Nutritional Diet Cook. "Because of the funding like this from TRHF campers have the best week of their year, volunteers learn to serve and love campers and parents get a much needed break to renew themselves," said Glen Elder, Executive Director Camp Blessing, TX. We are very grateful for their continued support.
Camp Blessing Tx is one of the few Christian camps in the country offering all of the traditional summer camp activities customized for full participation for all levels of intellectual/physical abilities including wheelchair, crutch, and walker users. Camp Blessing's ministry is focused on showing the encompassing love of Christ to those who often experience exclusion, ridicule and self-esteem-damaging treatment by peers.
Campers are thrilled to participate in the barrier-free gamut of activities including; horseback riding, archery, canoeing, fishing, swimming, ropes course, zip line, crafts, variety show, sports, water games, and more. Three out of four return annually calling it the best week of their year.
Camp Blessing Texas is a 10-year-old, award-winning, Christian summer camp ministry designed for children with special needs (physical/intellectual disability) to experience a week-long residential, barrier-free camp demonstrating love, acceptance and fun. In 2016, Camp Blessing will surpass 5,300 campers and volunteer counselors who have experienced this life-changing ministry since inception.
Tomball Regional Health Foundation (TRHF) is the new name of the Tomball Hospital Authority (THA). The THA was the owner and operator of the Tomball Regional Medical Center from its founding in 1976 up until its sale in 2011. TRHF's mission is to promote wellness and improve health status for all residents in our communities through programs that enhance access to health care, preventative care and health education.Please visit the new TRHF website at www.trhfoundation.org for more information regarding the foundation.
Camp Blessing TX delivers love, acceptance and fun each year to hundreds of children with special needs, provides respite to their families while giving a meaningful mission opportunity to scores of high school and college students who come to serve. God has done incredible things in the last 10 years and we trust his plans to continue to reach this under-served population of children.
Media Contact:
Marilyn Kinyo, Tomball Regional Health Foundation
(832) 559-7148 or mkinyo@trhfoundation.org