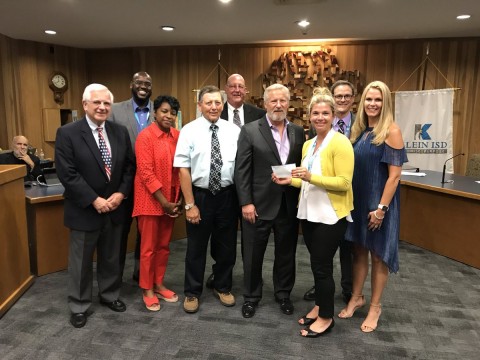 TOMBALL (June 11, 2018) Tomball Regional Health Foundation (TRHF) is proud to announce funding to Klein ISD to expand Kleinwell Healthy Living Program in the amount of $69,727.79. The majority of the awarded grant will go to support the growth of the healthcare related Career and Technical Education Pathway programs offered at Klein ISD's high schools. The Advanced Nursing, Emergency Medical Technician, and Pharmacology Pathway programs will receive real-world supplies and training. Giving students true to life training that will benefit our community by producing highly experienced and qualified students ready for their futures in the health care industry. The Advanced Nursing Pathway program will replicate the training models used at Lone Star College for the classroom instruction at Klein High School.
Items such as an advanced manikin with simulations, injection sites training model, and vital signs monitor package will be purchased to continue in the preparation of students to obtain industry certifications and licenses. Klein ISD is able to train and certify a maximum of 40 students annually with a partnership with Cypress Creek EMS to become Emergency Medical Technicians. The majority of training is conducted at Klein High and Klein Collins. In order to provide quality training required by CCEMS, items such as scoop stretchers, adult airway management trainers, and inflatable and vacuum splints will be purchased to continue to meet those requirements. Klein ISD has expanded the Pharmacology Pathway to all five high school campuses. The upper level students will eventually intern/job shadow at local pharmacies in our area. The current trainings are being held in the general classrooms. The purchase and use of the industry's training materials will provide students with a higher skill set as they interact with retail pharmacies and prepare for their industry certification exam.
A portion of the funds from the TRHF grant will be allocated to our district healthcare providers to meet the everyday needs and safety of students on and off campus. Upgraded CPR training devices will be purchased to modify current CPR manikins to provide real-time audiovisual and corrective evaluations and instruction during CPR trainings. Klein ISD participated in a "Stop the Bleed" training event in order to reduce fatalities from bleeding episodes. Campuses now require training tourniquets to allow for practice and skill retention. The TRHF grant monies will be used to make sure every campus is furnished with the proper training equipment. The Klein ISD health services department will also be receiving a MaicoEro Scan device to help support the need for the required hearing screenings of students who have certain barriers in which traditional audiometer screenings cannot be used. Additional monies will be allocated around the district to update their current equipment or have a new need for items such a pediatric blood pressure kit, EpiPen carrier, or privacy screen.
"The Kleinwell Healthy Living program is honored to receive the Tomball Regional Health Foundation grant to help support our district's vision. Klein ISD's mission of every student entering our school doors with a promise from every staff member that they will exit with a purpose for their life and future, the funds awarded from Tomball Regional Health Foundation will assure that our students are exposed to the healthcare resources and education that help support that promise and promote their purpose, said Tammy Cummings, Klein ISD Wellness Coordinator."
Funds from the TRHF grant will also go to expand Klein ISD's Steam Express mobile classroom housed on an 18-wheeler that travels around the community. Items purchased will provide visitors of all ages the opportunity to explore a future in medical careers. The Steam Express focuses on industries based in science, technology, engineering, art, and math. With the awarded funds from TRHF, the Steam Express will add materials to highlight medical professions and create and interest for all the passengers aboard.