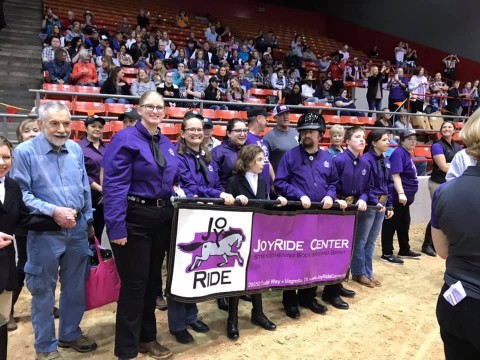 TOMBALL (July 19, 2019) – Tomball Regional Health Foundation (TRHF) is proud to announce the most recent grant to the JoyRide Center to continue their Day Habilitation Program as well as scholarships for the therapeutic horsemanship program in the amount of $105,000. JoyRide Center located in Magnolia was established in 2009 as a Therapeutic Horsemanship Center with the mission of helping people with different abilities find more joy in life through equine-assisted activities and therapies. JoyRide Center pursues its mission by providing opportunities for all participants to increase competence through the development of functional skills across multiple domains, and to participate productively within a community. Competence and community are integral parts of JoyRide Centers' programs, and this emphasis has facilitated the enrichment of the lives of JoyRide Centers' clients, their families, and our volunteers. In 2013, JoyRide Center established a pilot program for a day habilitation for our young adult riders.
The goal of our organization is to make the impossible into I'M POSSIBLE for our clients! We are a program that believes horses and the chance to be a productive member of a community help us to learn, grow, and reach our full potential. Our programs include hippotherapy, therapeutic horsemanship, riding competitions, and a Day Habilitation program.
With the gracious grant(s) from Tomball Regional Health Foundation, Joy Ride Center's Day Habilitation Program (JRC Prep) is able to provide a unique blend of prevocational training with targeted classroom instruction combined with facility worksite opportunities. Classroom and worksite activities are hands-on, encouraging task engagement for all ability levels. The foundation of the Prep Program is to assist clients in developing personal independence when performing activities of daily living; work-related social, personal and communication skills; and basic job skills. JoyRide Center's Prep Program promotes the mission of the Tomball Regional Health Foundation endorsing wellness and improving the health status of individuals in our program. We are also able to increase our days from (3) days a week to (4) and are able to offer Tuition assistance for our clients who apply for this opportunity funded by Tomball Regional Health Foundation.
Our instructional emphasis supporting program goals includes nutrition training through organic gardening and kitchen science; physical well-being through our movement program incorporating yoga and supporting flexibility, core strength, and range of motion; and self-discovery and self-advocacy lending their voice to personal health care. The Prep Program seeks to create a learning environment with structured job training and employment supports, encouraging young adults with different abilities to shift from consumers of services to active producers in the community. Continued financial support from Tomball Regional Health Foundation will afford JRC Prep the opportunity to complete our vision of providing life-long learning opportunities, community engagement and self- reliance though productive employment to our clients and for our community.
The JRC Prep program serves clients with physical and cognitive disabilities that have aged out of high school but are not yet prepared to enter the workforce. These capable young adults are often sitting at home for years after graduation with little hope of becoming active members of their communities. Many of them are capable of becoming employed or providing community service. The JRC Prep Program provides a first opportunity at employment for some of these clients.
We have proudly supported the JoyRide Centres' Therapeutic Horsemanship Program since 2015 and are pleased to continue this support, said Marilyn Kinyo, TRHF CAO. At JoyRide Center, the emphasis is not on the number of clients served, rather on maintaining the highest quality of services that they can provide. Their clients tell them that coming to JoyRide is much more than just a therapy session. They pride themselves on providing a family style atmosphere where clients and their families can make new friends, spend time with old friends and also experience the benefits of the unique therapy they provide. We are so happy and blessed to be able to support such a wonderful organization.
###
Tomball Regional Health Foundation (TRHF) is the new name of the Tomball Hospital Authority (THA). The THA was the owner and operator of the Tomball Regional Medical Center from its founding in 1976 up until its sale in 2011. TRHF's mission is to promote wellness and improve health status for all residents in our communities through programs that enhance access to health care, preventative care and health education.Please visit the new TRHF website at www.trhfoundation.org for more information regarding the foundation.
For More Information on JoyRide Center, please contact us at 281-356-5900 or email Terri Norris at fundraising@joyridecenter.org.