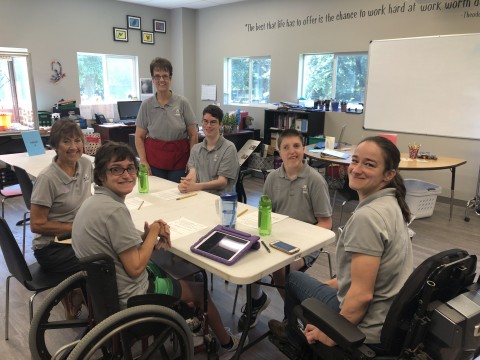 TOMBALL (May 9, 2018) Tomball Regional Health Foundation (TRHF) is proud to announce the most recent grant in the amount of $79,934 funded to the JoyRide Center to expand their Day Habilitation Program. This grant will provide for the expansion of the JRC Prep Day Habilitation Program from the current two days per week program to a four day per week program. Funding allows for additional personnel resources, computer equipment, software and specialized teaching curriculum.
The JRC Prep program serves clients with physical and cognitive disabilities that have aged out of high school but are not yet prepared to enter the workforce. These capable young adults are often sitting at home for years after graduation with little hope of becoming active members of their communities. Many of them are capable of becoming employed or providing community service. The JRC Prep Program provides a first opportunity at employment for some of these clients.
The grant will allow JoyRide to serve more adults with disabilities in our community, and to provide employment opportunities for these individuals. The ability to be a more productive member of a robust community enhances both mental and physical health. We believe that all individuals thrive when allowed to be productive, and JRC Prep takes a highly individualized and intentional approach to enhancing the productivity and competence of each client.
We have proudly supported the JoyRide Centres' Therapeutic Horsemanship Program since 2015 and now we are pleased to fund the JRC Prep Day Habilitation Program, said Vicki Clark, TRHF Chairwoman. The goal of this wonderful organization is to make the impossible into I'M POSSIBLE for their clients! Their program believes that horses and the chance to be a productive member of a community help us to learn, grow, and reach our full potential. JoyRide Center is a 501 (c) (3) non-profit therapeutic riding facility located in Magnolia, Texas. The JoyRide Center offers three programs including hippotherapy, therapeutic horsemanship, and a Day Habilitation program (JRC Prep). JoyRide's mission is to help people with different abilities find more joy in life through equine assisted activities and therapies, along with functional/life skills education.
JoyRide Center clients are people with a wide range of (dis) ABILITIES and pairing them with horses is a wonderful and natural thing. Not only is it an opportunity for fun, but horses walk almost exactly like people with the same rhythm and stride length, so it is also physically therapeutic. Horses are the perfect companions to help people focus on their specific goals; whether that is to gain strength for walking, to improve their minds with problem solving or to learn how to make friends, all while expanding their spirits by sharing the love of a wonderful animal with a group of dedicated volunteers and staff.