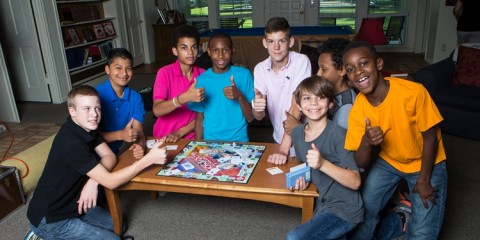 HOUSTON (July 18, 2017) – The Tomball Regional Health Foundation is happy to announce that they have awarded Boys and Girls Country of Houston, Inc. (BGC) a $22,000 grant to pay for uncovered medical and dental expenses for the coming year. The funds will be used for dental, orthodontia, vision, prescriptions and medical equipment. Boys and Girls Country's mission is to change the lives of children from families in crisis by loving and nurturing them in a Christian home environment, raising them to become self-sustaining and contributing adults. "Boys and Girls Country is blessed to have the partnership and support of the Tomball Regional Health Foundation. The children who come to BGC come from hard places. With this generous grant, we will be able to ensure they receive the medical services they need while in our care. We are truly grateful," commented Vince Duran, Executive Director.
Many kids come to Boys and Girls Country without ever having received consistent dental and medical care. Every child in the home receives required immunizations, twice-yearly dental visits, and routine check-ups, as well as any emergent or special medical or dental attention needed. BGC staff works with area healthcare providers to see children who do not qualify for Medicare.
Now in its 46th year, Boys and Girls Country provides a home to more than 100 children and young adults every year. The kids at BGC are succeeding in school, graduating from high school and college, learning independent living skills, taking on responsibilities like after school jobs and learning to drive, and growing up with healthy relationships and lots of opportunities to "just be kids."
According to Jack Smith, Tomball Regional Health Foundation Chairman of the Board, "We are honored to be able to help these children receive the healthcare treatments that they are need. We are here to help improve the health status for all residents in our community."
###
Boys & Girls Country of Houston, Inc. has provided a safe and nurturing place for 1,435 youth from families in crisis. The agency does not rely on federal or state grants for ongoing support and is not a United Way member. Contributions come from individuals, businesses, civic groups, churches, and foundations. Children need love and nurturing to thrive, and they need food, clothing, shelter, healthcare and education to grow up and become contributing adults. Boys and Girls Country is a 501(c)(3) nonprofit organization . For more information on Boys and Girls Country, please visit their website at https://www.boysandgirlscountry.org.
Tomball Regional Health Foundation (TRHF) is the new name of the Tomball Hospital Authority (THA). The THA was the owner and operator of the Tomball Regional Medical Center from its founding in 1976 up until its sale in 2011. TRHF's mission is to promote wellness and improve health status for all residents in our communities through programs that enhance access to health care, preventative care and health education.Please visit the new TRHF website at www.trhfoundation.org for more information regarding the foundation.