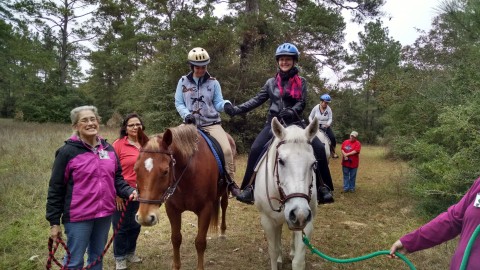 TOMBALL (April 5, 2018) Tomball Regional Health Foundation awards a $10,000 grant to SIRE – Therapeutic Horsemanship to provide therapeutic riding lessons to promote healthy outcomes for children with disabilities throughout Tomball, Magnolia, Waller communities.
This partnership will benefit 10 children with disabilities from families in financial need. "We are overjoyed for the families in the community that SIRE will be able to serve through this generous gift", stated Joe Wappelhorst, Executive Director of SIRE.
People with disabilities need safe, effective exercise; social opportunities; and activities to develop life, academic and work skills. Therapeutic horsemanship at SIRE addresses all these needs in a safe, effective, and enjoyable manner. Tomball Regional Health Foundation seeks to build healthy lives for all children in the community and this grant shows a commitment to those with special needs that do not have the same opportunities as most in the community. For more information on SIRE as a possible rider or volunteer please call 281-356-7588 or check out our website at www.sirehouston.org.
"Tomball Regional Health Foundation is please to support SIRE in working with the children with disabilities in our community to improve their cognitive, physical, emotional and social well-being, said Vicki Clark TRHF Chairwoman. Our mission is to promote wellness and improve health status for all residents in our communities through programs and these types of programs definitely does just that."