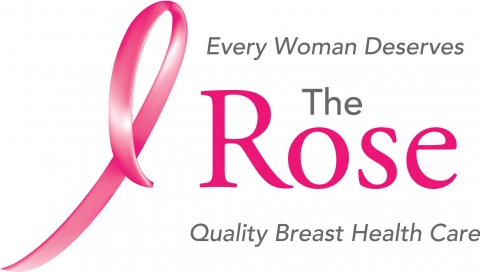 Tomball Regional Health Foundation's (TRHF) demonstrated their continued commitment to breast healthcare with their fifth donation to The Rose, a Texas breast health nonprofit. The newest investment of $25,000 in the Empower Her® Sponsorship Program will help cover the costs of breast health services for up to 200 uninsured or underinsured women and men in Tomball, Magnolia, Waller, and surrounding areas. Along with supporting no-cost mammograms and diagnostic services for medically underserved patients, the gift will also offset increased expenses of 3D imaging (the "gold standard" in mammography) and pathology fees for biopsies.
In 2018, TRHF gave two separate gifts to the Rose totaling $35,000, which sponsored patients from the eleven zip codes TRHF encompasses and funded additional services after Hurricane Harvey. The grants collectively offset the costs of 191 uninsured women, including three who were diagnosed with breast cancer and directed to timely and affordable treatment through The Rose's Patient Navigation Program.
According to the Centers for Disease Control and Prevention, the barrier most often cited for preventing women from accessing routine screening, mammograms, and diagnostic procedures is lack of health insurance. At the close of last year, the Urban Institute reported that Texas had the highest number of uninsured individuals (nearly 19 percent) in the country. The Episcopal Health Foundation has determined that the uninsured rates for adults ages 18-64 in Harris, Montgomery and Waller Counties are 25, 20 and 28 percent, respectively.
"Since 2015, the Tomball Regional Health Foundation has consistently partnered with us to save lives, and for that we are grateful," said Dorothy Gibbons, CEO and Co-Founder of The Rose. "Breast healthcare should be a priority to women and men, no matter what area you call home. Partnerships like this are critical for The Rose to have the resources needed to ensure cost and geography are not barriers to care."
According to a three-year study, the rate of breast cancer detection with 3D mammography was more than 40 percent higher than when 2D mammograms were used. Last year, 73 percent of screening mammograms and 48 percent of diagnostic mammograms that The Rose provided to all of its uninsured patients in the TRHF service area were 3D. This grant will help cover the 30 percent increase to screening costs due to utilizing 3D technology.
Between February 1, 2018, and January 31, 2019, The Rose served 617 insured and uninsured patients and diagnosed a total of ten patients from the TRHF-coverage area in Harris, Montgomery and Waller Counties with breast cancer.
"TRHF is honored to provide this service to women in the greater Tomball, Magnolia and Waller communities to assure prevention, diagnosis, treatment and hopefully someday a cure," according to Lynn LeBouef, TRHF CEO.
Another additional expense that the TRHF funding will offset is biopsies. In the past, the laboratory used by The Rose was able to provide pathology services at no charge for uninsured patients. That allowance has changed and those costs, ranging anywhere from $65 for a benign diagnosis to $1,000 per tissue specimen for a positive diagnosis, must be absorbed. Approximately 10 percent of uninsured patients in the TRHF service area received biopsies last year.
"Our ongoing relationship with The Rose is a tangible reflection of our values," said Marilyn Kinyo, Chief Administrative Officer of the Tomball Regional Health Foundation. "Community and partnership are not just words to us - they are a commitment. We celebrate how this particular partnership is saving lives in our communities."
The Rose Mobile Mammography Program has the following screening events scheduled in TRHF's service area:
Appointments can also be scheduled at one The Rose's two imaging centers at 12700 North Featherwood Drive, Houston and 5420 W Loop S Suite 3300, Bellaire.
For more information, or to donate or volunteer, please visit www.therose.org. To schedule interviews, please contact Mageida Sopon at mageida@medley-inc.com or call 832.310.5124.