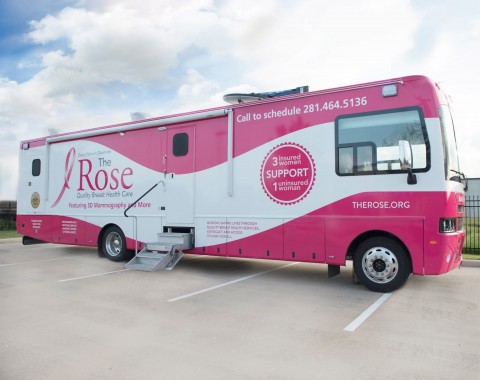 Tomball (November 27, 2018) The impact of Hurricane Harvey continues long after the flood waters receded. The Rose will continue to help ensure women in Tomball, Magnolia, Waller and surrounding communities will have the breast health care they may have put off as they dealt with the aftermath of the storm thanks to the $20,000 grant from Tomball Regional Health Foundation (TRHF).

As the leading nonprofit in breast healthcare for Texas, The Rose received the fourth and largest gift yet from the TRHF in support of its Empower Her® Sponsorship Program which makes possible free breast cancer detection screenings, diagnostic services and access to treatment for uninsured women. The increase in the amount of the grant monies is to both focus on those affected by Hurricane Harvey as well as return to previously sponsored patient loads after so many funders directed their 2017 giving to direct hurricane recovery.

"Five months after the hurricane hit, their surveys showed that almost a third of their patients had felt the impact of Harvey," said Dorothy Gibbons, CEO and Co-Founder of The Rose. "Since we know that uninsured and underinsured women will frequently put off screenings when their family's needs are so great, we are going to be very aggressive about getting the word out that The Rose Mobile Mammography Program is making their breast health a priority. This gift makes that outreach possible."

Hurricane Harvey impacted so many people in our community. We know that homes and properties were damaged, but we forget that for some it will come to a choice of fixing their home or paying for their insurance. Several people chose to fix their property. We want to assure that even those effected can get the proper screening that they deserve, said Lynn LeBouef TRHF CEO.
In November, The Rose began the outreach to anyone in our service area who missed their appointment in the months after the hurricane. A targeted social media campaign was also planned. Upcoming mobile mammography sites include PCP for Life – East Montgomery County Health Clinic, Dec. 14; PCP for Life – Lake Conroe Medical Clinic, Dec. 13; Houston Area Community Services – Spring Cypress, Dec. 29; Access Health – Brookshire, Dec. 31; and Conroe ISD – The Woodlands College Park High School in January.
Last year, The Rose diagnosed breast cancer in six insured and six uninsured women from the 11 zip codes served by us. Based on past data, between Nov. 1, 2018 and Jan. 31, 2019, The Rose anticipates serving 50 uninsured and underinsured TRHF-area residents.