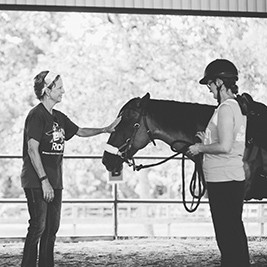 Magnolia, TX - JoyRide Center is thrilled to announce that we have recently received a $15,000 grant from the Tomball Regional Health Foundation.
The purpose of the grant is to replenish the JoyRide tuition assistance fund. According to Alexis Winder, Fundraising Team Leader, "We are thrilled to have been given this opportunity to provide tuition assistance. This grant will allow JoyRide to provide 296 horse therapy sessions and vocational prep classes for client families who may not otherwise be able to afford it."
Thanks to this grant, JoyRide Center is able to provide tuition assistance to interested families beginning in the fall semester. When a family is awarded tuition assistance, half of the total tuition amount is covered for that semester. For example, if the rider is in an hour long class with a fee of $50, tuition assistance would pay for $25 and the family would only need to come up with the additional $25.
JoyRide Center is extremely grateful to the Tomball Regional HealthFoundation for their generous contributions and support of our programs.
We are so proud that we have been able to help the JoyRide Center to replenish their tuition assistance fund. The therapy that they provide to these individuals is invaluable and we are glad that we could help" said Jack Smith, TRHF Chairman of the Board.
JoyRide Center is a 501 (c) (3) non-profit therapeutic riding facility located in Magnolia, Texas. The JoyRide Center offers several programs including hippotherapy, therapeutic horsemanship, school based activities, and vocational education to individuals with various physical and cognitive disabilities.
Those interested in volunteering are invited to attend a new volunteer training session Tuesday, August 18 from 8:30am-12:00pm. Training will be held at JoyRide Center located at 29550 Tudor Way in Magnolia. Please RSVP to Jennifer at volunteer@joyridecenter.org if you would like to attend.
About Tomball Regional Health Foundation:
Tomball Regional Health Foundation (TRHF) is the new name of the Tomball Hospital Authority (THA). The THA was the owner and operator of the Tomball Regional Medical Center from its founding in 1976 up until its sale in 2011. Please visit the new TRHF website at trhfoundation.org for more information regarding the foundation and its mission.
Contact
Jennifer Janke, JoyRide Center
(281) 356-5900 or volunteer@joyridecenter.org