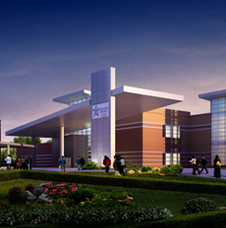 Tomball, TX - Tomball Regional Health Foundation (TRHF) recently committed to providing Lone Star College-Tomball with $379,188 for support of the allied health programs at the college. The initial gift of $64,188 will be used to purchase equipment to enhance instruction in LSC-Tomball's nursing and pharmacy technology programs. By August 31 and for the next four years thereafter, the foundation will provide $63,000 to pay the salary and stipend for an Associate Degree Nursing (ADN) instructor.
"We are grateful to be able to provide this funding to Lone Star College-Tomball for the equipment and faculty that they need to expand their nursing and pharmacy tech program," said Jack Smith, chairman of the Board of the Tomball Regional Health Foundation. TRHF's vision is to become a catalyst for measurable health and wellness improvements in Tomball and the surrounding communities.
"We sincerely thank Tomball Regional Health Foundation for their support. Their donation will help us in our goal of providing quality education to our students and qualified health care providers to the Tomball community. TRHF has always been a great partner and we look forward to continuing our partnership with them in the future," said Susan Karr, LSC-Tomball president.
LSC-Tomball is a primary provider of nurses and first responders in the area; 60% of nurses and 84% of first responders are trained at a community college like LSC-Tomball.
To learn more, visit www.lonestar.edu/tomball or call 281.351.3310.
Lone Star College-Tomball President Dr. Susan Karr accepts a check from the Tomball Regional Health Foundation (TRHF) board of directors for support of the college's allied health programs.