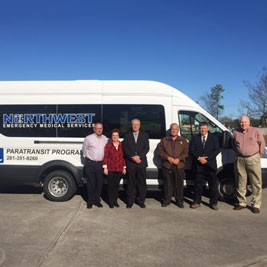 TOMBALL, TX – Tomball Regional Health Foundation (TRHF) is proud to announce a collaboration with Northwest EMS to provide two new wheelchair accessible vans for medical transport in the Tomball area. TRHF will provide the funding of the first year's operational costs as well as the capital expenditure for the two vans to be used in the new Mobility Project. Northwest EMS, the contracted emergency medical services provider for Harris County Emergency Services District 8, which includes the City of Tomball and portions of unincorporated Harris County, will operate the vans.
TRHF identified the fact that residents with mobility needs often do not have access to a vehicle or they need door-to-door assistance for routine travel. The new vehicles will be used for medical-related trips, such as to and from the doctor or home from the hospital. "Transportation for the uninsured and elderly has been one of the top priorities to the Tomball Regional Health Foundation Board," said Jack Smith, Chairman of the Board. "To be able to help patients get to their physician appointments and related healthcare visits means we are continuing to help our community and the individuals that live in it."
Northwest EMS and TRHF are thrilled to be able to provide this service for the elderly and people with disabilities, when simply getting around can be a challenge. Now, Tomball-area residents with mobility challenges have a new way to get where they need to go.
...